Printable PDF Cheatsheet Version
The Full Yield project productivity spread
Brambles. How might others put this project in ? How may you the project? What should you compensate for?
Fire. . Time to market; infrastructure/tech/manufacture/energy concerns; to be made. . .
Boulders. What do you have? How are you ? How can you overcome the way?
Air. . Legal concerns; laws; military; ; intelligence; secrecy; .
Seeds. What can you take advantage of? What should you nurture? What can ?
Water. Branding. Social factors; on customers and employees; emotional quotient; the ; longevity; reviews and .
Harvest. What should you to succeed? What will from this project? What will well?
Earth. . Financial success/failure, economic and financial factors; ; environmental impact; stability and ; concerns.
---
Mid-Yield 3-Card Spread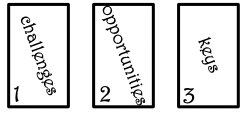 Challenges - brambles and boulders. What challenges do I need to overcome?
Opportunities - seeds. What opportunities lay before me?
Keys to unlock the best outcome. Harvest. How may I adapt to get the greatest yield?
Spreads created by The Crisses © 2021-2022. All rights reserved. Based on SWOT analysis and other business analysis principles. Meant to analyze business projects & business ventures.