This is the hub of our website universe. You may have gotten to this website by a number of methods. If you're looking for one of our many other websites, I've created a list below.
---
News
NEW! Plurality Resource
Free or sliding scale online courses by & for plurals — become an instructor or take a course.
---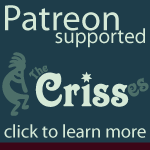 Help us meet our Full-Time content creation & collaboration goals - we have a lot to do before we aren't around anymore
Plural, Dissociative Identity Disorder & Multiple Resources
Book Resources by The Crisses
Holistic Sites
Business Sites
Personal Websites
Other
Elsewhere on the Web
Twitter

Facebook

YouTube

Medium

Dreamwidth
---
Welcome to the home of The Crisses -- an unapologetic weirdo raised by Llamas in the jungles of Brooklyn NY. [Well, my father is an Ares from Argentina, and Llamas are pretty close in the grand scheme of things, but my mother is a Leo from Missouri -- so does that mean I was raised by a lion and a lamb? Oh boy! No wonder my head is messed up.]
This is a personal website. If you don't want to know anything about me that might be personal, I suggest you leave. If you end up offended (or offered as a symbolic sacrifice on the altar of my Ego), or better yet, you agree that I'm a weirdo once you finally find your way back to civilization, don't say I didn't warn you!
If you do find that my warnings don't work and you still want to know something personal about me, I'm working on the Poetry section and the Blog. Other content will eventually become available here. For now, much of the "other content" resides at http://kinhost.org/wiki/Crisses